Kingsmen Coffee
Product Name: ROBUSTA KAAPI ROYALE
Product Description: One of the most exquisite coffees of India, Robusta kaapi royale is an AA graded robusta. Its yield is barely 6% per acre, making the requirement for this coffee to skyrocket. It is one of the very rare specialty Robustas which truly has a light body and Arabica like features, making it a huge accomplishment in the Robusta driven European markets.
Brand: Kingsmen Coffee
Price: 350 (250 gms)
Currency: INR
Availability: InStock
Flavour

Aroma

Strength

Value for Money
Robusta Kaapi Royale
This coffee has a mild aroma with a hint of smoky bitterness. It is a little fruity in flavor but rounded by a nutty finish. It's not especially strong and doesn't have a lingering aftertaste. With a dark caramel color and a nutty flavor, this coffee has hints of bitterness but generally balanced flavors. It smells nutty and sweet, with a flavor that is nostalgic of dried fruit, and spice with a delicate tang.
Kingsmen Coffee is all about Changing the world, one coffee at a time.
The zest for keeping in the country the best of 80% coffee that is produced in India made Kingsmen Coffee really push to get the best of what India grows. What it takes to get the best, you may ask, well, it requires a visit to various farms and mapping out the geographical regions which produce the best coffee based on the altitude, water source, cultivation practices, and other factors. Once the farm is located, we immediately deal with producers and support them in harvesting coffee. This begins the inception of the journey of the beans in Kingsmen Coffee, where they have multiple stops on the way through the curing facility, warehouse, and roastery.
They look into the very roots of the bean, see how they can enhance it and then amend and improve it personally. There is a huge range of curing processes that they instill viz, naturally processed, dry processed, wet processes, sun-dried, etc. On roasting, the coffee is blended to convey the classic mix of body, flavor, strength, and fragrance.
Therefore they offer our in-house single-origin Indian specialty coffee alternatives. Experience what the best of India truly feels like.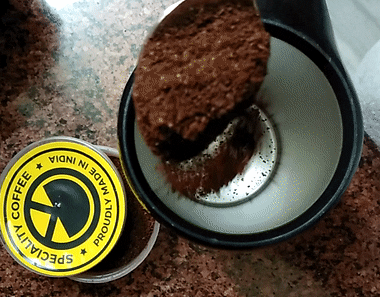 ROBUSTA KAAPI ROYALE